Lone Star Warriors Outdoors (LSWO) was founded by Retired Army and Combat Veteran Chris Gill. Chris has hunted, fished and worked with non-profit organizations offering these outdoor adventures for Wounded Warriors for years. In 2011 we created a program focused on hunting and fishing trying to say thank you to every Wounded Warrior out there. As of 2012 the combined number of combat wounded warriors from Operation Enduring Freedom (OEF), Operation Iraqi Freedom (OIF), and Operation New Dawn (OND) was over 50,000. This means that there are many Wounded Warriors that have hunted or fished in the past or that have always wanted to hunt or fish and this is their opportunity. It is our goal to get those warriors back out doing what they love and allowing them the time with other combat vets to talk and feel a part of something again, which is why we created Lone Star Warriors Outdoors.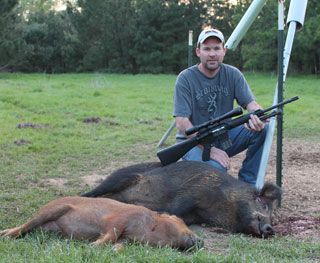 The organization is run by a five member all-volunteer board. This allows us to maximize the use of donations to serve our veterans. We have no paid staff in contrast with other organizations who may serve Veterans in some capacity but whose budget is primarily used to cover fund raising and other administrative costs, over; 99% of your donations goes back to our warriors.
These men and women are our Nation's most treasured asset and we need to say Thank You to them and help them in any way possible. By taking our warriors hunting and fishing we help to promote confidence and promote healing and a sense of belonging. Many of our warriors believe that we do not care; they hear it but do not see it. Help us to honor these modern day heroes today.
The mission of the Lone Star Warriors Outdoors is to say "Thank You" to our Nation's combat Wounded and Injured Warriors who have sacrificed mind and body in the fight on terrorism by providing a fun and relaxing atmosphere while introducing or reconnecting and teaching the American tradition of hunting, fishing and other outdoor activities. Second to provide a time of mental healing or therapy by allowing Wounded Warriors to meet others that have been in the same situation, allowing each to talk about issues that only they understand.
I was invited by Lone Star Warriors Outdoors this past weekend 6-8 sept, 2013 to a dove hunt at Cole Creek Ranch, Christoval ,TX. This truly was a very memorable event. From the time myself and my battle buddies hit the ground we were welcomed with open arms by Chris Gill the founder of the organization and Ryan and Tiffany Hayes and the rest of the Cole Creek Ranch family. I highly recommend anyone that has an opportunity to attend an event to get after it. It was a weekend with action packed events from four wheeling, hunting, high powered rifles, and spending time with Great Americans ! Thank You Whoahhhh!!